Join Us For Mass
Mon - Tues 8a | Wed 8a (Catholic Students & Families) & 5:15p
Thurs - Fri 8a | First Sat 8a (Anointing of the sick 8:30a)
Sat 5p | Sun 8a | 10a | 12p
Holy Days 8a | 12p | 5:15p

Stream Live
Casting The Net
A candid discussion between two fathers, one a priest and the other a married man with four kids, on what it means to be a father, and always in search of "catching the faith".
listen now
Knowing Jesus and Making Jesus Known
CHILDREN'S LITURGY OF THE WORD
Weekly Sunday 10:00a Mass
During Sunday 10:00a Mass, children not having yet received Eucharist leave the church for their own age appropriate hearing of the Sunday Scriptures with trained catechists. The children hear the same Mass readings as adults – but in simpler terms that are easier to grasp.
2x Monthly Sunday
Every Catholic family is called to seek our religious education for its members. For with children in Grades 1-7 not attending Christ the King Catholic School, we are thrilled to offer Family of Faith, a family-centered parish supported movement forming a new generation of Catholics who know and love Christ Jesus and live as joyful disciples. Launches Sunday, September 17 at 10:00a Mass.
LOCUS / HIGH SCHOOL TEENS
Monthly Sunday
Our new monthly high school teens hangout that begins with a spirited celebration of Mass that connects with the younger church and continues afterwards with fun food and meaningful interaction. Launches September 17 with 12:00p Mass and continues afterwards in the Parish Office Meeting Room.
Walking With Purpose
Weekly Monday
Walking with Purpose believes that relationships matter, truth matters, and you matter. Open to adult women Mondays 7:00pm in Fellowship Hall.
Weekly Tuesday
Two times on Tuesday to view episodes from Season 3 of the highly acclaimed creation "The Chosen" with meaningful conversation and prayer. Open to adults Tuesdays 10:00a and also 7:00p in Fellowship Hall, begins 10/3
Monthly Tuesday
Adults in the difficult throes of a pain of a loss that will not go away are warmly invited to join others similarly seeking relief from grief by means of receiving God's healing grace with the uplifting support and encouragement of others who genuinely care. Open to all adults on the 2nd Tuesday at 6:30pm in Fellowship Hall.
Weekly Wednesday
The dynamic offering available for those beyond high school interested in becoming a fully initiated member in the Catholic Church. Open to all adults Wednesdays 6:30pm in the Parish Office Meeting Room.
Weekly Wednesday
Reading and discussing the Gospel for the upcoming Sunday led by Father Dave. Open to adult men Wednesdays 7:00pm in Fellowship Hall.
Weekly Thursday
Starting your day by combining core strengthening, stretching and functional exercises with the prayers of the Rosary. Open to everyone Thursdays 7:00am in Fellowship Hall.
Monthly Thursday
Monthly lunch for 55+ with opportunities to enjoy easy meaningful conversation and share in friendship. Open to adults 55+ 1st Thursday 11:30a in Fellowship Hall.
Weekly Thursday
The Rescue Project is an 8-week experience of community, conversation, prayer, and the story that is the Gospel. Open to adults Thursdays 6:30pm beginning September 28 in Fellowship Hall.
Monthly Saturday
Every month on the 3rd Saturday from 6:00 pm – 8:00p men gather to grow in understanding and practice of the Catholic faith, enjoying spirited fraternity and forging supportive friendships so to live lives of greater positive impact. Join us in Fellowship Hall and bring a friend!
The Christ the King App includes mass times, staff contact information, weekly bulletins, live streaming, giving options, podcast streaming, funeral planning, scripture readings, social interaction, and more. Check it out today!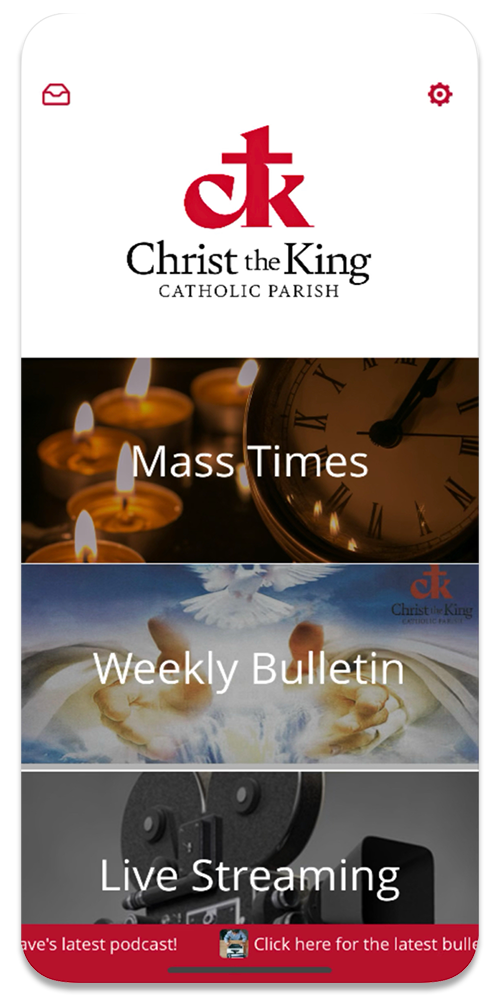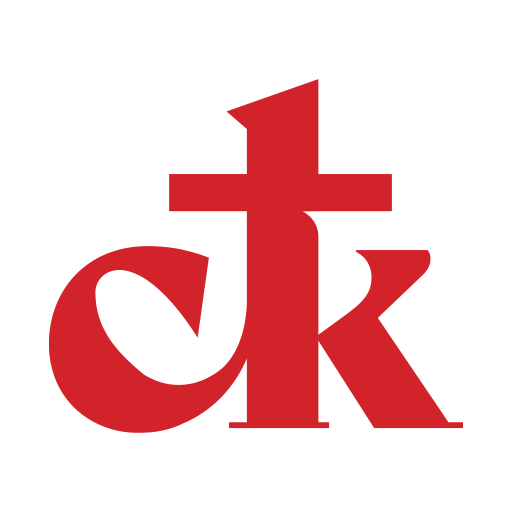 opening a door of faith to the world
Holy Day: Feast of All Saints