"Go therefore and make disciples of all nations, baptizing them in the name of the Father and of the Son and of the Holy Spirit" 
We are thrilled to announce the formation of our brand new
LOCUS Group,
specially designed for High School
Leadership | Outreach | Community | Unification | Spirituality
Are you a high schooler looking for a place to be part of an extraordinary group of people, oriented toward reaching out to others and building community?
This group comes as a result of our commitment to providing a safe, interactive and engaging space for young people to come together and explore their faith while also building meaningful and long-lasting connections with like-minded peers. Led by experienced and enthusiastic Youth Evangelization Coordinator, Jen Badoni, this group promises to offer a wide range of exciting and thought-provoking activities and discussions aimed at catering to varying interests within the High School age group.
For more information on LOCUS Group and how your child can get involved, feel free to contact Jen Badoni, Youth Evangelization Coordinator, via email at jbadoni@cktoledo.org or call her at 419-475-4348 ext.112.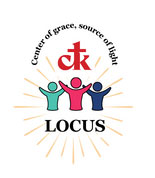 Come join us for family, food, and mentorship opportunities while we learn better how to connect our faith with everyday life. For meeting dates or to register click below: